Torrey Canyon quarry work 'slowed' by cold snap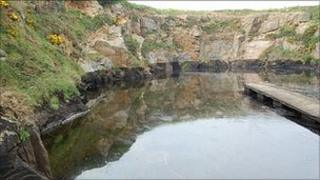 Clearance of oil from the Torrey Canyon quarry was slowed by the winter's cold snap, according to Guernsey's Public Services Department.
Rob Roussel, senior project manager, said the natural treatment being used on the site was more effective in warmer weather.
He said he hoped the oil would be eradicated by the end of the summer.
However, Mr Roussel said it depended on how much more oil rose from the bottom of the quarry.
Micro organisms, that feed on hydrocarbons, and enzymes are involved in the bioremediation process, which sees the oil turned into carbon dioxide and water.
Mr Roussel said: "We aerate the water to maximise their activity, they work better in the warmer weather.
"Two things slowed the process down, the cold snap we had in November and far more oil came up from the bottom than had been expected."
The oil was placed in the quarry in the Vale after 100,000 tons of crude oil from the Torrey Canyon tanker hit some of the island's westerly beaches.
The 974ft (297m) vessel hit the the UK's south-west coast on 18 March 1967.