'Potato peel pie' book draws crowds to Guernsey gallery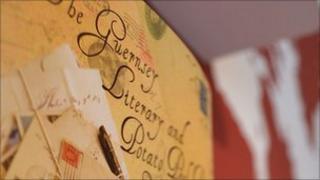 An exhibition of dust covers which illustrate translations of a book set in Guernsey has broken attendance records at an Arts Commission gallery.
The Greenhouse started displaying covers of The Guernsey Literary and Potato Peel Pie Society on Thursday 14 April. The first week saw 500 visitors.
Previously, the most popular display had attracted 190 per week.
Comments left by overseas visitors included: "We read the book, now we are experiencing Guernsey in person."
As well as images from published translations of the book, co-written by Mary Ann Shaffer and Annie Barrows, the exhibition also included interpretations by college students.
Brett Klement, the exhibition's designer, said: "The rich culture of our island and its ongoing story are very much at the heart of the world-wide phenomenon regarding this book.
"Though pleased, I am no more surprised by the record numbers attending the show than I am by the many cruise ships which visit this rare gem set in the English Channel."
The exhibition continues until Thursday 11 August.