Oil price dents Aurigny's profits despite better sales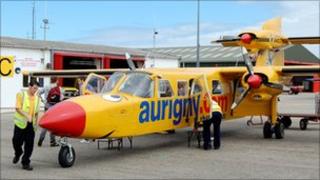 Guernsey airline Aurigny has announced increased seat sales for the first three months of 2011.
The highest increase was on flights to and from Gatwick, with a 24% rise from the same period in 2010. The average increase on all routes was 13%.
Malcolm Hart, the managing director of the States owned airline, welcomed the news but warned the figures may not be reflected in future profits.
He said the sales were "being offset by the rise in the cost of fuel".
Aurigny increased its fuel surcharge twice during the first quarter of 2011 but Mr Hart said many of the seats sold during that time were at the earlier, cheaper prices.
"A good portion of our budget seats have been sold at pre-surcharge prices and therefore we will not recover the full increase," he said.
The company declined to provide BBC Guernsey with figures relating to its fuel costs.