Guernsey's Castle Cornet opens with a bang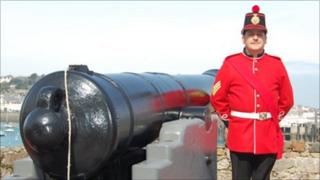 Cannon fire heralded the opening of the summer season for one of Guernsey's iconic cultural landmarks.
Castle Cornet, at the entrance to St Peter Port Harbour, is open from 1 April to 30 October every year.
Run by the Guernsey Museums Service it offers islanders and visitors living history displays, plays, themed historical tours and a new museum.
The Militia Museum, dedicated to the military in the island before World War I, is due to open in April.
Housed in the first floor of the castle's hospital building it sits above the Royal Guernsey Light Infantry Museum, which tells the story of islanders who fought in World War I.
The noonday gun fires every day the castle is open.
The tradition dates back to the early parts of the 19th Century when an English Garrison fired guns at noon and at 2130 to mark the curfew and to recall soldiers to their barracks.
This practice was discontinued in 1923 as an economy measure before being reintroduced in 1974 as a visitor attraction.
The 32-pounder cast in 1799 is "fired" by the electronic detonation of a saluting charge of about 25g (0.9oz).
In service the cannon would have fired a 32 pound (14.5kg) iron ball to an extreme range of about 2,500 yards (2.3km).
The castle keepers who fire the cannons wear replica uniforms of the Guernsey Militia between 1868-81 with traditional British scarlet tunic and blue trousers.
The uniforms are detailed and accurate replicas, made in wool, with "kepi"- style caps and white leather belts, which were traditionally kept white by the use of pipeclay.
However, the Guernsey Militia never manned the castle as it was garrisoned by English soldiers, with the militia serving the numerous forts and batteries around the coast.