Guernsey fisherman finds 'rare' albino ray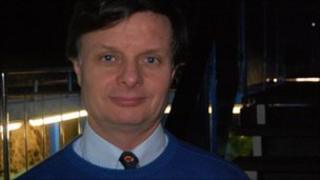 A fisherman has caught a "rare" albino ray in Guernsey waters.
The marine animal measures 80cm long and has a completely white surface.
Richard Lord, from Sustainable Guernsey, who is also a marine life photographer, said it was an albino ray but he had not yet been able to identify what type of ray it is.
He said: "Because of its unusual lack of colouration and different type of spines I cannot identify the exact species but I know it is rare."
The albino ray is currently at Guernsey's Aquarium awaiting further analysis.
Mr Lord said: "We are sending a tissue sample to a researcher at the Plymouth Marine laboratory to help us decide what it is through DNA analysis.
"It will be returned to the sea once it has been identified," he said.