Guernsey ambulance called to cliff and sea rescues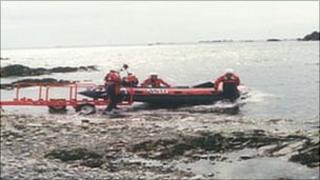 Guernsey's St John Ambulance and Rescue Service successfully dealt with two separate rescues at the same time on Sunday evening.
Three 15-year-old boys were rescued from rocks off Port Soif Bay after their kayaks overturned.
While that rescue was in progress a visitor was rescued from the cliffs east of Saints Bay after he had got stuck while climbing up from the beach.
All four of those involved were cold and shaken but otherwise uninjured.
The emergencies were attended by the service's inshore lifeboat and cliff rescue team.
Duty Officer Sonia Guille said in both cases a mobile phone played a vital part in alerting the emergency services.
She said: "The teenagers did the right thing and once the kayaks had overturned they went to the nearest rocks, climbed it and stayed on it.
"They had a phone on them so they could phone somebody.
"We advise people to carry their phone whenever they're going out."