Guernsey WWII site may be opened to public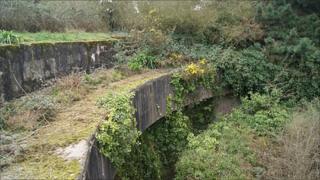 One of the Channel Islands' largest World War II artillery emplacements could be opened to the public.
Batterie Mirus was built by the occupying German forces on high ground on Guernsey's west coast.
It primarily consisted of four 30.5cm (12in) gun emplacements, which are now all on private land.
The land housing one of them has been sold to a new owner who has allowed historical group Festung Guernsey access to the site.
The group, which has an interest in the island's World War II fortifications, aims to clean and secure the site before offering tours.
Paul Bourgaize, from Festung Guernsey, said: "It's very overgrown, the interior is full of rubbish and soil, all that has got to cleared out, it's got to be lit because at the moment for guided tours it's just not safe.
"There's years of work here really."
He said he did not expect any "amazing finds" as they "are long gone".
The guns based in Guernsey were original built for a Russian battleship and were scrapped after the war.
However, Mr Bourgaize said other matching guns from the same ship were scattered across Europe and it may be possible one day to put one in situ on the emplacement.
Each gun site included an underground area, which included barracks and accommodation, ammunition stores, generators, and heating and ventilation systems.
As well as the four main armaments the compound, measuring about 1km (1,100 yds) by 750m (820 yds), contained anti-aircraft guns, a flame thrower, mortars, machine guns, searchlights, radar and other smaller artillery pieces.
More than 300 soldiers manned the site, which was tasked with attacking enemy shipping and securing convoy routes for friendly ships.
The history of the guns goes back to the commissioning of the Imperator Alexandr Trety in 1917.
The Russian Navy battleship displaced 27,300 tonnes and had a change of name, to Volya meaning liberty, after the Russian Revolution.
After serving with the German Navy for police duties in the Black Sea it was again renamed, this time to General Alekseyev when it became part of the Russian White Navy.
In 1935 she was broken up and her 12 guns placed in storage before being sold to Finland in 1939.
The German navy captured a steamer, which carried four of the guns and reconditioned them before installing them in Guernsey.
The battery became operational in 1942 and was named after naval Captain Rolf Mirus, who was killed while travelling between Guernsey and Alderney.