Call for funds for 201 Squadron visit to Guernsey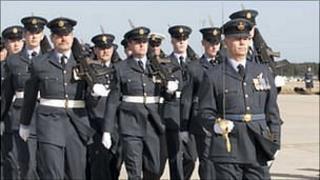 Fundraising has begun to pay for the final visit and last parade of Guernsey's Own 201 Squadron to its affiliated island.
The Royal Air Force squadron is due to be cut as part of £4.7bn of savings to be made from UK defence budgets over a four-year period.
It is one of the oldest British military flying units and has been associated with the island since 1939.
It has chosen to hold its final parade in Guernsey on Liberation Day, 9 May.
Anne Ewing is one of the organisers of the fundraising events, which include a black-tie dinner.
She said of the squadron: "This is home to them.
"They say they've never been treated so well, the island of Guernsey has been incredibly hospitable and generous to them."