Boreholes to be dug in Mont Cuet landfill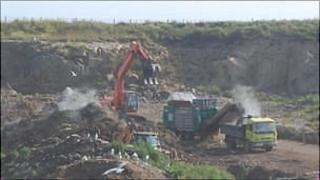 More than 30 boreholes will be drilled into Guernsey's landfill site to capture gases and help control odours at Mont Cuet.
Senior project manager Rob Roussel said there were already some boreholes in place, each up to 15m deep.
He said: "Many have failed due to settlement that occurs in a site like Mont Cuet, so we need to renew them."
The project, being carried out by UK contractors Automatic Flare Systems Ltd, is due to be completed by April.
Mr Roussel said the boreholes "are an important step in making this part of our plan for Mont Cuet viable".
He added: "A more stable flow of gas is essential if we are to implement electricity generation at the site."
The Public Services Department appointed Coventry-based Automatic Flare Systems Ltd to carry out the drilling work and connect the boreholes to the existing gas extraction system.
The department said they were just one of the measures it was introducing to counteract issues such as odour and wind-blown litter affecting the area around Mont Cuet.
The department has previously estimated the landfill could last until 2021.