Work begins on community centre despite lack of funds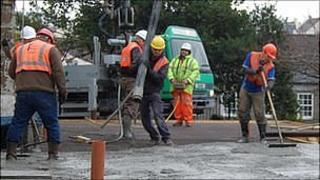 Despite a £150,000 shortfall the building phase of the redevelopment of a community centre in St Peter Port, Guernsey, has started.
The work on the site next to St Stephen's Church is expected to cost at least £370,000.
Trustees said the money already raised was being used to build a "wind and water-tight" shell.
They said the building work would have to stop if the money could not be raised in time.
The plans for the new facilities, which will sit alongside the current granite hall, include a large kitchen, toilets and a meeting room.
Father Philip Carrington, chairman of the trustees, said: "It replaces the old corrugated iron structure that was there since 1906 - well beyond its sell-by date.
"We demolished that a couple of months ago and now we're laying the concrete base, it's really exciting."
David Le Lievre, one of the trustees, said: "With the closure of the old boys' grammar school in Brock Road there are a lot of groups there who want to use the facilities here."
If the remaining funding is secured the centre is expected to be a self-financing venue for local activities for all ages.