Guernsey fire service pay dispute goes to tribunal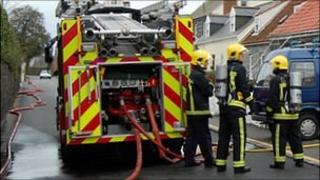 A tribunal is due to be held to solve a pay dispute between Guernsey's Fire and Rescue Service and the States.
The service, represented by the Unite union, asked for a tribunal to determine salaries for staff after negotiations stalled.
The States negotiating body, the Public Sector Remuneration Committee, has agreed to the move.
The tribunal date has yet to be set, but it will consider wages paid for a 12-month period from July 2010.
Unite's regional officer Ron Le Cras said the committee had sent delegates to negotiations who were not empowered to make decisions.
He said: "It's unacceptable as far as I'm concerned, when we sit down to negotiate we want to have people there who can make a decision."
However, the committee's chairman, Deputy Allister Langlois, said he was happy with the way the discussions had been carried out.
He said: "On occasion, just like Mr Le Cras has to refer back to his members, they have to refer back to the committee."