Stone Age artefacts 'could be under Delancey Park'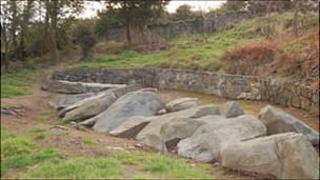 A Guernsey park could be home to artefacts dating back to the Stone Age, according to a Bristol University archaeologist.
Dr George Nash has asked the States for permission to excavate an area of Delancey Park in St Sampson.
Dr Nash has already carried out some test digs in the area and believes a Neolithic gallery grave, with some intact artefacts, is located there.
If permission is given, work should start in June.
Dr Nash will work with the archaeology officer for Guernsey Museums, Phillip de Jersey, on the dig.
Mr de Jersey said: "The stone used to be upright, forming what is called a gallery grave.
"It is quite a rare type of Neolithic monument in the Channel Islands - there's just this one on Guernsey and a couple on Jersey.
"We got a fair amount of pottery and flint from the trial pits that were dug last summer, and we've also got material in the museum's stores from the excavation that took place here in 1922, so we can be fairly sure there is still material to be found."
He said any finds would remain in the island and some could go on display in the island's museum.