New target for Guernsey flumes campaigners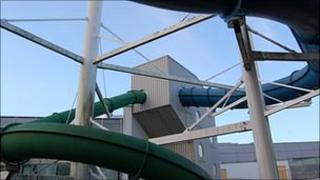 Campaigners hoping to save Guernsey's water flumes have been set a more ambitious target.
Sisters Kelly and Lynsey de Carteret initially aimed to raise £30,000 by Christmas to pay for the refurbishment of the existing slides at Beau Sejour.
The Culture and Leisure Department has now given them a year to raise £90,000 for a single, new slide.
Minister Mike O'Hara said the work of the campaigners was "absolutely wonderful".
He said: "If they can do it, it's good news, they've got my support.
"I don't think anyone wants to see the flumes close, but we are where are and financially it is difficult for [the department] to do anything about it."
Previously Deputy O'Hara said any refurbishment work on the 20-year-old flumes would be wasted if the money to replace them in 2012 was not found.
Kelly de Carteret said as well as approaching island companies for donations they were planning a number of fundraising events.