Outcry 'no surprise' to developer of old post office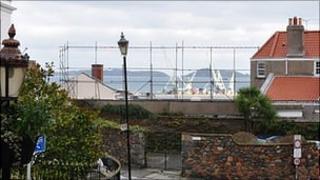 The developer of an old post office building in Guernsey says he is not surprised by the negative reaction to plans for three floors of shop space.
Ossory Investments has applied for planning permission to strip out Nelson Place in Smith Street and create three floors and a basement for retail use.
Brett Allen said: "The height is a concern to us and I'm not surprised that there are these objections."
He said if it was rejected he would continue to work with the planners.
One group which expressed opposition to the plans was the National Trust of Guernsey, which has lodged a formal objection with planners.
President Martin Ozanne said: "We don't object to any redevelopment as long as it is in-keeping.
"Certainly in this particular case the site rails have been put up and you can see it completely spoils the view enjoyed by so many people and visitors to the island."
Mr Allen said: "I fully understand where the National Trust is coming from.
"We've put the scaffolding up so that everybody is aware of what we're actually talking about.
"We feel the building may be too high, but having said that it is a manifestation of what's required."
He said the plans to create 2,373 sq m (25,500 sq ft) of retail floor had attracted the attention of a major retailer.
Mr Allen said: "I think the island should actually be quite amazed and very pleased that in fact quality retailers, of the kind I'm talking about, should actually want to come to St Peter to trade."
The plans include the retention of the building's facade.