Electricity demand reaches all-time high in Guernsey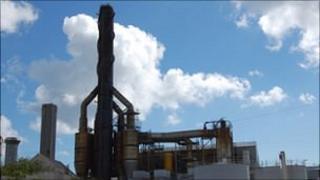 Guernsey Electricity recorded the highest ever demand for electricity, with a peak of 85 mega watts at 1400 GMT on Thursday.
Steve Morris, engineering director, said: "We normally expect to hit record levels in the early evening.
"However the schools being off and people working from home has obviously had an effect on consumption, especially heating."
He said it broke the previous record of 84 mega watts set on 12 January.
Mr Morris said the total amount of electricity supplied to the island also reached a record level.
He said: "We supplied a new record of 1.567million kilowatt hours over the 24 hours, the previous record being 1.532million also on 12 January this year.
"High energy demand predominantly coincides with cold weather, and this is largely due to the increasing popularity of storage electric heating in Guernsey.
"There is every chance that we will exceed this record again if there is a further spell of cold weather later in the winter."
The company said 61% of the generation was done on island with the rest coming via the cable link with France.