Snow leads to full closure of Guernsey Airport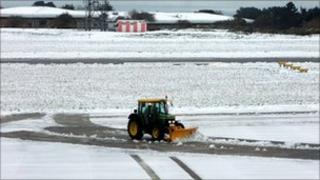 Snow has closed Guernsey Airport and all the schools in Guernsey and Alderney for the day.
Colin Le Ray, airport director, said it would not open on Thursday, but snow clearance would continue for the rest of the daylight hours.
He said the airport would open from 0630 GMT "provided no further snow accumulations occur overnight".
Snowfall also led to the closure of all schools in Guernsey and St Anne's School in Alderney.