Guernsey and Alderney airports reopen after snow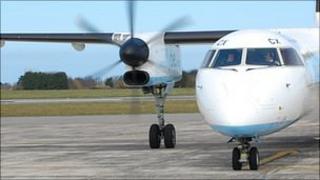 Guernsey and Alderney Airports have reopened after heavy snowfall caused them to temporarily close.
The airport runways had to be cleared of snow before the first flight could arrive in Guernsey at 1441 GMT.
Guernsey Airport Director Colin Le Ray said the airport closed after 30mm of snow fell within an hour on Saturday morning.
Passengers are advised to check in on time although many flights are still delayed.
Lightning strike
Further snowfall is expected before it starts to thaw.
Martin Crozier from the Met Office said: "It's going to go slushy through the afternoon but there is the risk that it's going to freeze overnight so there's a possibility of some really treacherous road conditions later on."
Guernsey Police said some small trees came down overnight and the Toteval church and a house in St Martin's were struck by lightning.
A number of homes have also suffered problems with telephone lines which Sure have apologised for.