Firms tender for Guernsey Airport runway contract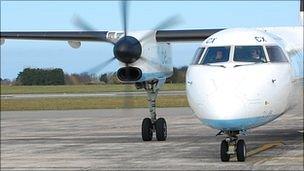 Four construction firms have put in bids to carry out the maintenance and improvement work at Guernsey Airport.
The project, expected to cost £81m, is due to start in 2011 and take about two years to complete.
It involves the reconstruction or refurbishment of the runway, safety area, taxiway, airfield lighting and other key operational systems.
Public Services Minister Bernard Flouquet said he was pleased with the number of tenders received.
The firms vying for the contract, BAM Nuttall, Lagan Construction, Trant Construction and VolkerFitzpatrick, all have previous experience of airfield construction projects.
Mr Flouquet said: "Of the five companies who we invited to tender, all but one has continued to be involved. Having such a good response to the invitation to tender will help ensure the works are competitively priced."
He said two firms would be selected for three months of "value engineering" before a final selection was made.
Mr Flouquet said the vast majority of work would be undertaken while the airport remained operational, but some two day closures might be necessary "as a last resort".
He said any methods of reducing or removing the need for these closures would make the tender more attractive as would using subcontractors from the island.
The aim of the work is to equip the current airport to serve the island until 2040.
Guernsey Airport, which opened in 1939, currently serves about one million passengers a year.
The existing runway was last resurfaced in 1974 and was expected to last between 15 and 30 years.
Mr Flouquet said the work would start slightly later than their original estimate and would "hopefully start at the end of summer, beginning of autumn" in 2011.
Related Internet Links
The BBC is not responsible for the content of external sites.