Aurigny to reintroduce online booking fee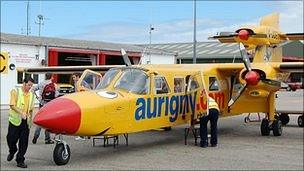 Guernsey States-owned airline Aurigny plans to reintroduce online booking charges to try to curb its losses.
So far this year it has made a loss of nearly £1.4m, more than double the £600,000 estimated for 2010, which follows a loss of £1.6m in 2009.
The loss has led the airline to bring back charges for online booking and debit cards that had previously been removed.
Aurigny said it was also investigating charging for baggage in the future.
Financial director Peter O'Donovan said the online charges had been removed earlier in the year, but had not seen "the positive reaction" they had hoped for.
He said: "If we do introduce the charges, and I must stress we have not made that decision yet, it will be made very clear to customers at the start of the booking process."
On the company's loss, Mr O'Donovan said: "One of the major factors was the volcanic ash earlier in the year, which not only grounded us for quite a while but also shook the public's confidence in booking and that's had a major impact.
"Together with some very strong movements in exchange rates and really just the continued economic recession, which is far deeper than I think anyone was expecting.
"Over the last couple of years the economic conditions have been appalling, we've had firefighter strikes, snow, ice, volcanic ash... there's been no good news at all."
He said: "We're looking at every aspect of the business and looking for opportunities.
"The new routes [Guernsey to East Midlands and Jersey to Stansted] we started are still developing - they will start to make a bigger contribution - [and] the fifth pair of Gatwick slots will make a greater contribution as time goes on.
"It's something you can't turn around overnight.
"We're certainly expecting to make a loss next year, although we're looking at a range of options to reduce that loss."
The company is underwritten by its shareholders, the States of Guernsey.
Earlier in the year a possible sale of the airline, by the States to Blue Islands, was ended over concerns that the London Gatwick Airport slots would not be safeguarded.
Mr O'Donovan said this would be the case in any sale.
"The stumbling point really is the Gatwick slots as we've proved again this summer," he said.
"In order to have control over the slots we have to own the airline... that's the most significant issue."
Related Internet Links
The BBC is not responsible for the content of external sites.