Alderney tidal energy company seeking EU funds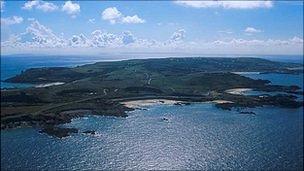 The company working on developing tidal power in Alderney is seeking funding from the European Union.
In 2008 Alderney Renewable Energy was granted an exclusive 65 year licence to explore and develop the island's waters for the production of electricity.
Chairman Stuart Trought said the company was "slightly handicapped" by Alderney not being in the EU.
He said they were "working closely" with the UK on securing funding, which would make a "significant difference".
Mr Trought said: "They're considering our case as we speak... and we're making good progress.
"There was a European directive passed last year, which means that theoretically we are eligible for the same incentives that are available to any other member of the EU."
He said: "What we hope to do in the future is to harness this power and turn it into electric energy which can then be used to the benefit of Alderney in particular, and any excess resource be exported.
"We need to get on a level playing field with the United Kingdom and we need the financial incentives, which are available to anybody else in the EU, to be made available to the Channel Islands."
Related Internet Links
The BBC is not responsible for the content of external sites.