Delancey Park improvement work passed by planners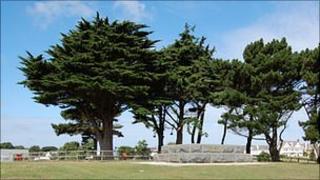 Guernsey planners have granted permission for major improvement work at Delancey Park, in St Sampson.
The work involves 18 projects on the site including the rebuilding of a monument to the island's most famous naval hero Admiral Lord de Saumarez.
Alex Rodger, chairman of the group behind the project, said he welcomed the news and hoped work on the new memorial would start this year.
The group has already raised £300,000 of the £800,000 needed for the work.
The monument to Admiral Lord James de Saumarez, who died in Guernsey in 1836 after a long and celebrated career in the Royal Navy, would replace one first built in 1877.
All but the base of the 99ft (30m) high granite memorial was demolished in 1943 by the German forces occupying the Channel Islands to clear fields of fire for their artillery and naval batteries.