Navy remembrance visit to Guernsey cancelled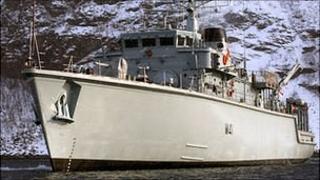 The visit of HMS Quorn over the Charybdis and Limbourne memorial weekend has been cancelled.
The Royal Navy hunt class vessel, designed to run counter measures against mines, had been due to visit the island for three days from Friday.
A Royal Navy spokesman said the ship had developed a "serious technical defect".
As this would have delayed her arrival in Guernsey and her sailing on for operations the visit was called off.
HM Royal Marines Band Collingwood is due to attend the ceremonies, which include the commemoration ceremony at Le Foulon Cemetery on Sunday.
Show of loyalty
On 23 October 1943 HMS Charybdis was sunk off Guernsey and within days the bodies of 21 servicemen had washed up on the shore.
The incident was during the German occupation, but the men were buried with full military honours.
Thousands of islanders turned out to the funerals in a show of loyalty to Britain and respect for the men who died.
The large-scale attendance was viewed negatively by the occupying force who banned the public from attending a later funeral service, which was held after another 29 bodies washed up.