Saviour found for Guernsey flag ceremony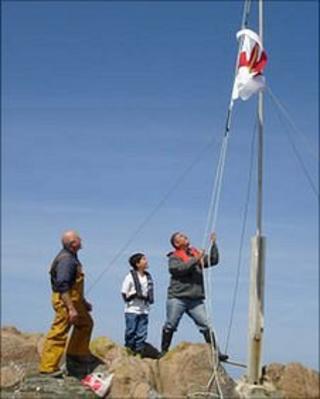 A Guernsey flag supplier has vowed to help save the annual raising of the flag ceremony at Cobo Bay.
There was concern the tradition, which dates back to before World War II, of raising a flag on Grosse Rocque would have to stop.
Organisers said they struggled to get hold of the two sturdy flags required.
Roy Bisson said it was a part of island life and he was "happy to provide flags for the future".
Before 1940, the Union Flag was annually raised on Grosse Rocque, a large rock one mile off the coast from Cobo Bay, on the August Bank Holiday.
When the islands were occupied by German military forces, the tradition was not allowed to continue, but after the Guernsey was liberated on 9 May 1945 a local man Fred Martel decided he wanted to place a flag on the rock to celebrate the island's liberation.
He was rowed out to Grosse Rocque by Henry Guilbert and ran the Union Flag up the mast.
Links to Normandy
Since 1948 this act has been commemorated by the raising of a new Union Flag, and later a Guernsey flag after its introduction in 1985, every Liberation Day after it has been blessed in a simple ceremony.
John Chick, a relative of Fred Martel, said it was a tradition that should continue.
He said: "When you look out, people always ask you what's that flag doing on that rock and it's a nice little tale... it's a nice little thing for the people of Cobo."
Guernsey introduced a flag for a number of reasons including confusion with England at sporting events like the Commonwealth Games as the island used the same flag, the cross of St George.
The flag, which includes a gold cross seen on the Bayeaux Tapestry to highlight the island's links to Normandy and William the Conqueror, was first raised on the 40th anniversary of the liberation.