Condor Ferries boss talks of resolving fleet's faults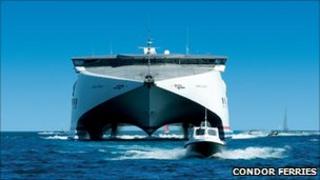 The managing director of Condor Ferries has spoken of his firm's attempts to try to resolve problems with its fleet.
Last month Simon Edsall apologised for delays caused by technical issues which, at times throughout the summer, affected the firm's three ferries.
Mr Edsall said the delays and cancellations on services between the Channel Islands, the UK and France, had been "unfortunate".
He added that engineers were trying to locate the root cause of the faults.
At the weekend the Vitesse was put out of action due to technical problems - resulting in many passengers being stranded in Poole.
This was followed by Tuesday's high-speed sailing from Weymouth being cancelled too.
Mr Edsall told BBC Jersey that each fast catamaran had three engineers on board as well as a shore-based team who were also looking into the problems.
"There is nothing that jumps out in the way we run or maintain the ships that would indicate a single cause," he said.
"I have apologised a number of times... this summer with the problems we have had.
"We have tried to keep our passengers informed as well as we can.
"We are trying to minimise the impact."