Garden named for Guernsey stalwart Marie de Garis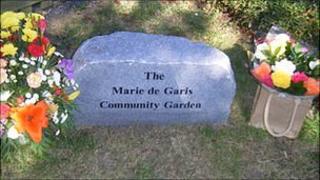 A Guernsey parish garden has been dedicated to cultural, heritage and language expert Marie de Garis, who died in August.
Mrs de Garis, best known as an author and expert on local language and folklore, died aged 100.
The Marie de Garis Community Garden was originally created by the St Peter's Floral Group in 2008.
Mrs de Garis, who had been due to open the garden, was said to have been "overwhelmed" by the idea.
The garden stands on the site of the playground of the former St Peter's School, which Marie de Garis (then le Messurier) attended.
The community garden was one of a number of projects credited with St Pierre du Bois (St Peter's in the wood) winning the top prize in Floral Guernsey in 2009 and going on to represent Britain in Bloom 2010.