Tidal energy survey carried out in Guernsey waters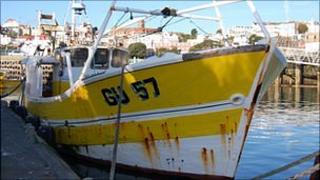 The potential of generating tidal power in the Bailiwick of Guernsey is being explored as a survey of the Big Russel's seabed takes place.
The Nicola May, a local trawler, is exploring the stretch of water between Herm and Sark for a week.
The area was chosen for its depth, between 40-50m (130-165ft), and the fact it is big enough to accommodate tidal power devices.
The survey will look at what the seabed is made of and the area's wildlife.
Big Russel is the channel which runs between Brecqhou and Sark on the east, and Herm on the west.
Counting plants
Dr Emma Sheehan, who is leading the survey, has worked on similar surveys in Cornwall and Lyme Bay.
She said: "We're here to characterise the seabirds, we're going to try and count all the plants and animals that live here and identify them.
"This will form a baseline from which future surveys can be compared to, so once we've started developing the area with tidal area devices we can see if they change the animals and plants that live here."
She added: "Renewable energy is so important globally but it still doesn't negate the importance of understanding the local impact, so that with the bigger projects like big wave farms and tidal farms we know how to manage them and mitigate their effects."
The survey is being carried out using a specially designed sledge, mounted with lights and a high definition video camera, that is towed over the seabed beneath the fishing vessel.
The work is being led by the Guernsey Renewable Energy Commission in association with the Sark General Purposes and Advisory Committee.