Deputies try to overturn Guernsey tobacco vending ban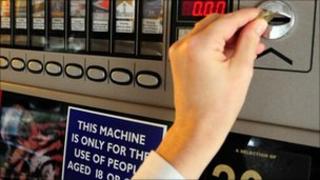 Some politicians in Guernsey are trying to overturn a ban on cigarette vending machines.
The ban was approved on 1 July, following an amendment to a tobacco advertising law.
But 10 States members now believe the decision to include machines was taken without adequate information.
A requete [motion] signed by the 10 said the circumstances surrounding the approval were "neither fair nor transparent".
The group, which includes Deputy Barry Paint, added that it believed that the decision was not an example of good government.
Even if the requete is unsuccessful, the ban is unlikely to come into force for about two years to allow for the legislation to be drafted and approved by the the States and the UK Privy Council.
The requete will be debated by the States in October.
The tobacco advertising ban was supported by the Health Department, which said smoking remained a major cause of premature death and ill health in the Bailiwick.
Deputy Health Minister Andrew Le Lievre said it would help save lives and could also prevent a number of young people taking up the habit.