Chief Pleas to vote on splitting Sark Seneschal role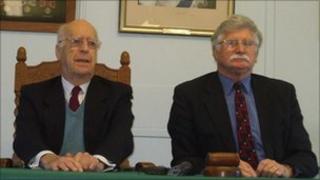 The president of Sark's government, who is also the island's senior judge, could soon have his powers halved.
The dual role of the Seneschal could be split at the next Chief Pleas meeting.
The General Purposes and Advisory Committee has recommended the Seneschal gives up the power to preside over Chief Pleas.
The Seneschal is one of two non-voting hereditary roles in Sark's government - the other is the Seigneur (lord).
Human rights
If Chief Pleas accepted the recommendation, a new president would be appointed to fulfil the roles of speaker and chairman of the government.
The role of Seneschal is held by Lt Col Reg Guille.
The committee have cited human rights laws as the reason for the proposed changes.
Sark's 450-year-old feudal system of government came to an end in December 2008, when 28 conseillers were elected democratically for the first time.
However the hereditary roles of Seigneur and Seneschal were retained.
Opponents of these offices believe they contravene the European Convention on Human Rights.
These opponents include Sir David and Frederick Barclay, the billionaire twins who live on the neighbouring island of Brecqhou which comes under Sark's jurisdiction.
In December last year, when they lost their Supreme Court appeal asking for further constitutional reforms on Sark, they said they intended to take the matter to the European Court of Human Rights.
The next meeting of Chief Pleas will take place in October.