Guernsey milk to cost more than £1 a litre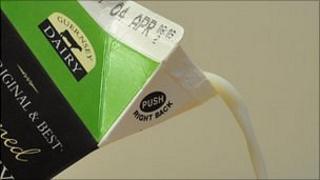 The cost of a litre of Guernsey milk is set to break the £1 barrier for the first time.
A 3p-a-litre price increase is due to come into effect on 3 October, which would see a litre cost £1.01, a half litre 57p and organic half litres 78p.
It would be the first increase in milk prices since December 2008.
The Commerce and Employment Department said it had taken into consideration the increased pressure on household budgets in the economic climate.
Minister Carla McNulty Bauer said of the Milk Price Review Panel: "After last year's price freeze, we have understandably seen a slight loosening of the situation this autumn.
"However, it is clear that the panel believe that the consumers' interests should be taken into consideration and that any increases should be small at the present time, and also should aim to encourage efficiency in all parts of the local industry."