New Nimrod to appear in Guernsey air display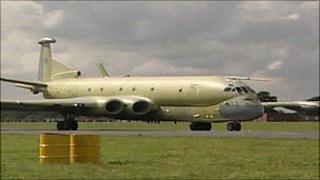 One of the new versions of Nimrod is due to join Guernsey's Battle of Britain Air Display on Thursday.
The Nimrod MRA4 is due to appear alongside planes from the Battle of Britain Memorial Flight and display teams including the Red Arrows.
The plane is due to make a single fly-past over St Peter Port at 1247 BST.
Guernsey has been affiliated to 201 Squadron, which flies the planes, since 1939.
The Nimrod MRA4 replaced the Nimrod MR2, one of which did a farewell fly-past over Guernsey in March.
The new planes are based at RAF Kinloss and are currently being used for training before entering service, which is due to be in autumn 2012.
The aircraft due to feature in the display was the first of the new versions off the production line.
Bill Ovel, chief test pilot for Large Aircraft BAE systems and a former RAF Nimrod captain, is due to captain the plane on his last flight for the Nimrod project.
Concerns have been raised from some areas of the military over the withdrawal of the MR2 a year earlier than originally planned.
The Nimrod had been in service for about 40 years before the deaths of 14 servicemen in 2006, after an explosion over Afghanistan, led to a safety probe.