Channel Islands' ferry returns to service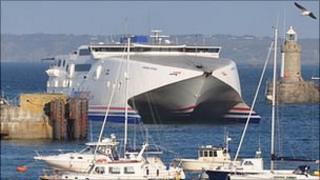 Condor Vitesse has returned to service following repairs to its engines.
The smaller Condor 10 has been standing in on its routes between the UK and the Channel Islands since Friday.
Simon Edsall, managing director, said: "I would like to thank our passengers for their patience during this frustrating time."
He said the Vitesse would be operating at a lower speed so schedules would still be "slightly affected".
Mr Edsall added: "I am sorry that travel plans have been affected by these unexpected engine problems."
The damage to the Vitesse occurred after it had picking up debris in the water.