Work under way to lower E. coli level at Guernsey beach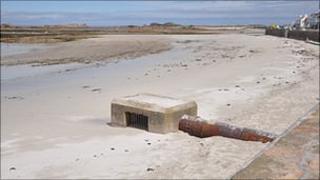 Work to deal with increased levels of E. coli at a Guernsey beach is under way, the director of water services at Guernsey Water has said.
An inquiry into the cause started after the high levels were found near freshwater outfalls at Cobo Bay in June.
Andrew Redhead said repairs were made to the sewage system and they ensured cesspits were emptied regularly.
He said: "We are now carrying out tests to see whether these improvements have brought about the changes we expected."
He added: "We've carried out close circuit television inspections of the inside of the sewer system and we found one or two minor pieces of repairs that have been carried out.
"We've also found that by looking at the records of the cesspits in the area that a number of them were not being emptied as they should have been and so we've corrected that."
The investigation is being carried out by Guernsey Water and the Environment and Health and Social Services departments.