Warning of increased aircraft activity over Guernsey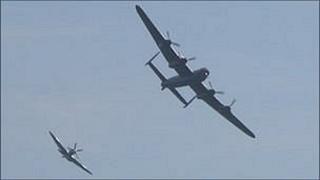 People in the south of Guernsey are being told to expect a rise in aircraft noise over the next few days.
The warning comes in the the run up to a series of special aviation activities due to take place this week.
They include parachute drops, the Battle of Britain Air Display, pleasure flights by historical aircraft and the Guernsey Air Rally.
A spokesperson for Guernsey Airport said it was hoped that disruption would be kept to a minimum.
The 2010 Battle of Britain display, which is due to take place on Thursday, will cost around £40,000 to stage.
The aerial display, which this year marks the 70th anniversary of the Battle of Britain, is due to feature aircraft from World War II including the Spitfire, Hurricane and Lancaster.
Modern aircraft such as the F-16 Typhoon and display groups including the Wing Walkers and the Blades will also make an appearance and the display will end with a routine by the Red Arrows.
This will be the first time since 2004 that a Lancaster bomber has taken part in the display, which is due to be staged over St Peter Port between 1100 and 1315 BST.