Recycling facility resumes in Guernsey's St Martin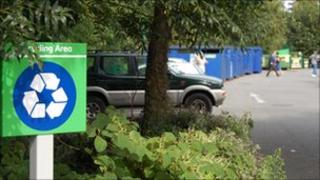 Recycling has resumed at a site in Guernsey after bins were removed to make way for more car parking space.
The bins at Manor stores in St Martin were taken away on Tuesday to allow additional car parking space for the new Iceland store.
They were to be sent to other sites but some have been reinstated by landowner, Sandpiper CI, until planning permission for another location is granted.
The decision was made after a number of locals voiced their concerns.
Tina Norman-Ross, public services recycling officer, said the response after the bins were removed "demonstrated people's passion for recycling in the island".