Company suggests Guernsey Airport runway alternative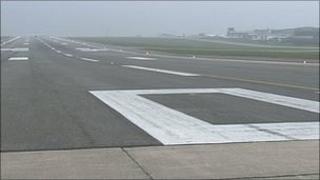 An American company says it is confident it has got a cheaper solution to solve problems with Guernsey Airport's runway.
The Public Services Department is planning to extend the safety areas at either end of the landing strip in a project that will cost £81m.
It involves buying up parcels of privately-owned land to extend into.
David Heald, EMAS Max director, said arrester beds, which stop runaway vehicles, would be a cheaper option.
The work on the runway is due to start in 2011 with the majority of the work to be completed overnight.
Airport authorities have previously said that the work was essential to comply with international aviation standards.
Mr Heald said their system was designed to be "an alternative to a full safety area that was equal to or superior to the standard length required for safety areas beyond the runway".
He said the need had been identified at a number of airports in the US that were severely constrained because of topigraphical issues or man-made structures.
He said of the system: "It is constructed of an airated or cellular concrete, which is 80% air by volume.
"The aircraft rolls onto the bed, beyond the runway, crushing the material. The aircraft essentially sinks into the material and the drag load is absorbed through the landing gear into the aircraft body and the aircraft is declerated to a safe stop."