Recycling site lost in Guernsey's St Martin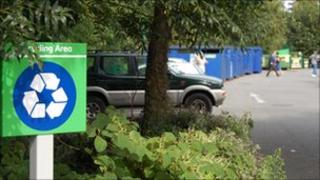 The removal of a "bring bank recycling" site in St Martin is a backward step for recycling in Guernsey, a parish constable has said.
The facility was one of the island's largest sites, but was removed on Tuesday so the landowner could have more parking spaces.
Senior Constable Gerry Tattersall said talks were ongoing but finding an alternative site could take a while.
He said: "It'll be weeks, if not months before we have a replacement site."
Until an alternative site is found the bins at the Manor Stores site will be relocated to other sites on the island to increase their capacity.
The Public Services Department said anyone who usually took their recycling to the Manor Stores site should use either the Safeway or Salerie Corner sites instead.
Sandpiper CI, the landowner of Manor Stores, has offered an alternative site nearby, but the department said this site would require planning permission and further investigation.