Guernsey seafront road closures may be extended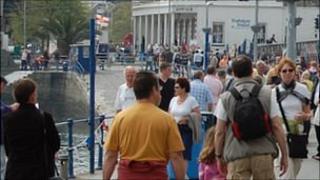 The closure of the road on Guernsey's St Peter Port seafront on Sundays during the summer could be extended throughout the year.
Culture and Leisure Minister Mike O'Hara said the closures for seven Sundays this summer had been a great success.
He said the aim was to make the waterfront a more appealing place and the reaction had been "very positive".
Deputy O'Hara said: "Personally I'd like to see it closed every Sunday."
He said closing the road to traffic did not go down well with everyone, but that many enjoyed the change.