Police issue photo of neck chain found at attack scene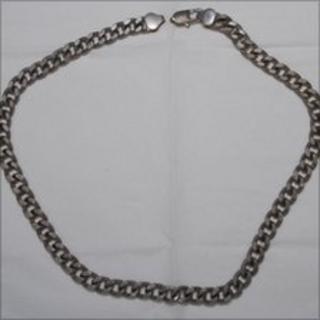 Police have released a photograph of jewellery found at the scene of a sex attack on a woman in Guernsey.
The silver chain is suspected to have been worn by a man who attacked a woman in Forest Lane in St Peter Port in the early hours of Saturday.
The assault was carried out in a location close to a previous attack in the lane in July.
Guernsey Police are appealing for anyone with information about who may have owned the chain to contact them.
The attack in Forest Lane, which happened at about 0245 BST, is not being linked to another sexual assault in the island which took place in a private car park near Bosq Lane sometime between midnight and 0325 BST.
Police said the man involved in the Bosq Lane incident was described as 6ft (1.83m) tall, with a bald or shaven head, of thin muscular build and with a local accent.
The suspect in the Forest Lane incident was described as being of Mediterranean or olive-skinned appearance, with dark hair, aged between 28 and 30.
He was about 5ft 5in (1.64m) tall and had been wearing a light-coloured shirt or T-shirt with dark jeans.