Two new vehicles for Guernsey Ambulance and Rescue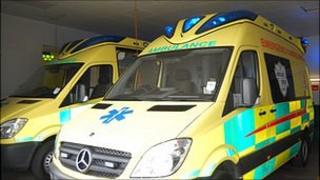 Two new specialised ambulances have joined the fleet of the Guernsey Ambulance and Rescue Service.
Chief Officer Jon Beausire said the van conversions, rather than the traditional "modular" designs, were more suited to the island's road.
He said the vehicle had been developed following a staff consultation and close work with the manufacturer.
They have replaced the service's two oldest vehicles, which are both 11 years old.
Malcolm Mechem, the Assistant Senior Ambulance Officer who previously worked for Brabham Formula One Racing Team, worked closely with German manufacturer Ambulanz-Mobile over the 10 months of the build.
He said they had "produced a superb front line emergency ambulance" in which patient care, comfort and safety were paramount.
Mr Beausire said there was also a cost saving of about £15,000 per vehicle when compared to a "modular" vehicle.