Squadron's standard to be laid up in a Guernsey Church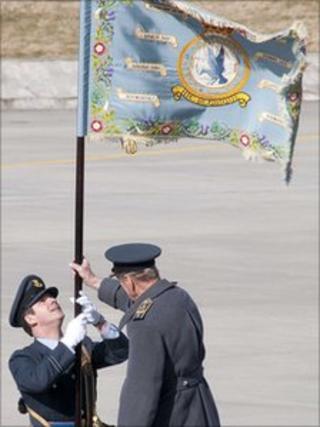 The old 201 Squadron standard is due to be laid up in Guernsey's Town Church during the Battle of Britain week parade in September.
The Royal Air Force squadron has been affiliated to the island since 1939.
It was presented with a new standard by Prince Philip, the Honorary Air Commodore of 201 Squadron, in March.
The parade, including members of the squadron, is due to take place on Sunday, 12 September, three days after the Battle of Britain air display.
Members of 201 Squadron, Guernsey's Own, from Royal Air Force Kinloss will be led by the squadron's commanding officer, Wing Commander Mike Blackburn who took up the post in December.
Last remaining link
The squadron was formed on 15 October 1914 at Gosport and was originally called No.1 Royal Naval Air Squadron before becoming 201 Squadron with the creation of the Royal Air Force on in April 1918.
On 5 May 1939, at the opening of Guernsey's current airport, the Air Minister Sir Kingsley Wood announced that as part of the Municipal Liaison Scheme the squadron would be affiliated to the island.
The link, which was officially inaugurated on 26 May 1939 by the visit of one of the squadron's flying boats to St Peter Port, is the only remaining one created by the scheme.
During the visit the squadron, which operates the Nimrod aircraft, will be raising funds for the Royal Air Force Association, visiting primary schools and has offered to carry out repair and general maintenance at the Kindred Family Centre.