Seven people rescued from Lihou Island off Guernsey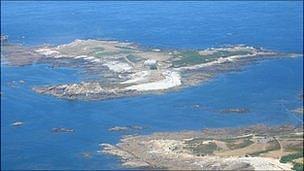 Guernsey's inshore rescue boat was called out to help seven people stuck on Lihou Island on Wednesday.
Two women and five children were cut off by the rising tide when it covered the causeway between the two islands at about 1630 BST.
They could not wait till low tide, at about 2330 BST, as one child needed to take medication.
The boat brought the group back to Guernsey just after 1800 BST.
Dean De La Mare, the Station Officer at St John Ambulance and Rescue, which operates the inshore rescue boat, said: "Be very aware of the tides, the timetable is posted up... take a look and make sure that you keep an eye on the time and get back in plenty of time so you don't get stranded.
"Normally you have to wait to get back to Guernsey and you might be coming back in the dark."
No one was injured in the incident.
Related Internet Links
The BBC is not responsible for the content of external sites.