Calls to save Guernsey's Telephone Museum from closure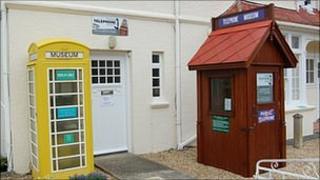 Protests are being made against proposals to close or move Guernsey's Telephone Museum.
The suggestion came in the Culture and Leisure Department's report into Safeguarding Guernsey's Heritage Assets which goes before the States this week.
Hermes House, in the Castel, is one of three sites that have been put forward for closure.
Deputy Mark Dorey has led the calls for a more detailed assessment of its prospects before any decision is made.
He said: "It's not everybody's choice of museum, it's outside town, it doesn't get the publicity like Castle Cornet or Candie Museum, but... it's an important museum, it's unique. There are not many telephone museums left and it's part of Guernsey's heritage."
The museum was opened in 1976 with a majority of its items coming from the stores of Guernsey Telecoms, after it was automated.
It was housed in Hermes House, which had previously held the Castel manual telephone exchange.
Historian and volunteer at the museum Ron Knight urged States members to take time to consider the decision and the future of the island's artefacts.
He said: "It's absolutely imperative that before any action is taken to move the museum out of this building there must be an onward plan of what to do with it to keep it live and running."
In their report the Culture and Leisure Department said there was a need for "an overarching heritage strategy" that would include some rationalisation of some of the objects in Guernsey museums' collections.