Commodore Clipper systems have 'no defects'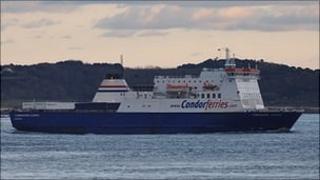 An investigation into the cause of a fire aboard the Channel Islands' Commodore Clipper ferry has found there were "no defects" in the ship's electrical systems.
The UK's Marine Accident Investigation Branch's preliminary report found an "electrical fault" started the fire.
It made several recommendations which Condor Ferries said it had been put into place "with immediate effect".
The full report is expected to take several months to complete.
Investigators found the fault involved the ship's power supply and a trailer's refrigeration control system.
They recommended that operators of vessels carrying refrigerated trailer units should check that all cables and fittings are in good condition and that electrical protection devices will activate appropriately.
They also suggested that until the exact cause of the fire was found additional checks of the trailers were made to provide early warning of any overheating problems.
The fire broke out in the lower vehicle deck on 16 June while the vessel was mid-channel on a journey from Jersey to Portsmouth.