'Horror' at lack of home for ancient wreck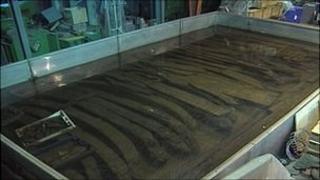 The marine archaeologist who led the recovery of the Gallo-Roman wreck Asterix said she was "horrified" that the ship may not return to Guernsey.
Dr Margaret Rule led the project to raise the wreck from St Peter Port harbour during 1984 to 1986.
The Culture and Leisure Department has said the cost of preserving and displaying the ship would be too expensive for the island.
Dr Rule said she was "horrified that the ship may not be returned".
She said of the Asterix: "She's part of Guernsey's history, she belongs in St Peter Port where she sank, she'd make a tremendous centre piece for a new museum there."
Dr Rule said it was likely to attract attention from around the world as the research into the unique vessel gets under way in earnest.
"We need to learn from this ship because she is so significant and she's the only one of her kind we have at the moment."
She said that she believed ships should be housed near the place they were wrecked.
Dr Rule said the current situation was not that different to when the wreck was found and raised.
"We had no money at all and the people of Guernsey, friends and people all over the country rallied round and found the money to recover her," she said.
"No one was paid a salary. We all gave our services for nothing and there was enormous effort in Guernsey to save that ship.
"When I think of all that effort being swept aside because of some poor fundraising then I'm very sad indeed. There is money if you go out and ask for it, if you work hard to get it.
Dr Rule's career included a number of years in charge of the restoration and display of the Mary Rose at Portsmouth.
The wreck, which was discovered in 1982 by diver Richard Keen, has been undergoing preservation work at the Mary Rose Trust since 1999.