Ukraine round-up: Alarm at nuclear plant and US urges Griner deal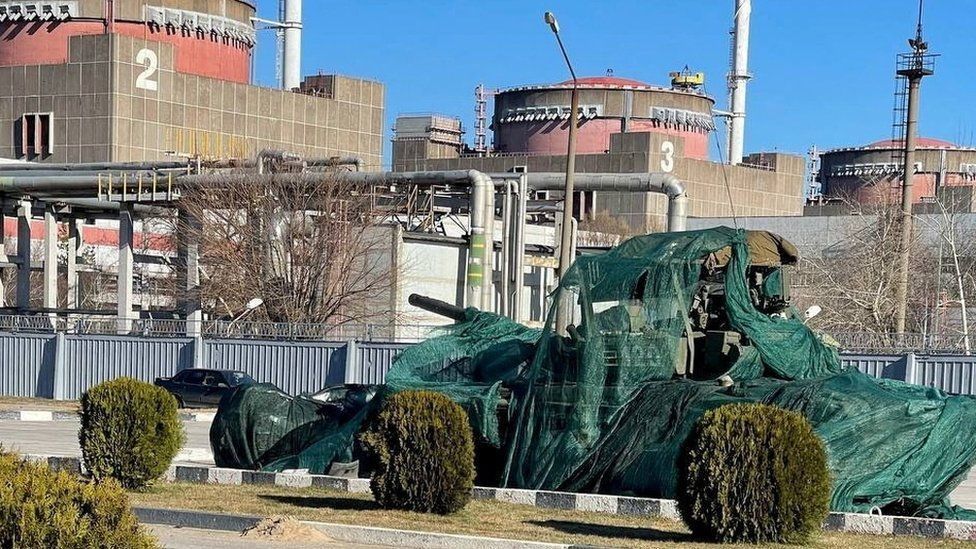 There is growing alarm over the situation at Europe's largest nuclear power plant.
Zaporizhzhia, in south-east Ukraine, was seized by Russia early in the conflict, but kept its Ukrainian employees.
Both sides blame each other for shelling there, which Ukraine says damaged part of the facility.
Ukraine's nuclear operator warned of the risks of radioactive leaks, although none so far have been detected. The UN's nuclear watchdog has pleaded to be allowed access.
Civilians in the area said Russia was using the site to launch attacks, confident that Ukraine would not fire back.
US urges Russia to accept deal to free jailed basketball star
Basketball star Brittney Griner was arrested on drugs charges in Russia just before the war, with the case straining already tense relations between Russia and the US.
The US has urged Moscow to accept a deal to free Griner, who has been sentenced to nine years in a Russian prison.
The double Olympic winner was convicted of possessing and smuggling drugs after admitting to possessing cannabis oil.
On Friday, Russia's Foreign Minister Sergei Lavrov said Moscow is ready to discuss the topic.
One man who may benefit from this is Russian arms trafficker Viktor Bout, who is reportedly being considered as part of the deal.
More grain leaves Ukrainian ports
Three more ships loaded with grain have sailed from Ukrainian ports - one from Odessa bound for Ireland, and two others from Chornomorsk towards the UK and Turkey.
The vessels are carrying more than 50,000 tonnes of produce.
Moscow and Kyiv agreed in Istanbul last month to resume shipments from Ukrainian ports, easing Russia's blockade of the Black Sea for the first time since it invaded its neighbour in February.
The first grain shipment on Monday was cleared for travel through the Bosphorus following an inspection by officials from Russia, Ukraine, Turkey and the UN.
Russia and Ukraine are major global suppliers of wheat and other grain, and the blockade has caused a global food crisis.
Russian-installed Kherson chief falls ill
The head of the Russia-installed administration in the occupied Kherson region in Ukraine is being taken to Moscow due to an unspecified illness.
Vladimir Saldo has been moved to the Sklifosovsky research institute "where highly qualified medical assistance will be provided to him", his press service announced.
The southern city, which had a population of 290,000 before the war, is administered by Moscow-backed officials since falling early on in the war.
But Ukraine is waging a campaign to retake control of the city.
Wembley exhibition shows 'beauty' of Ukraine
The "real beauty of Ukraine and its people" is being showcased in a public art display outside Wembley Stadium.
Visions of Home is a collection of photographs, installations and digital works by artists from the country.
It forms part of an annual art trail just outside Wembley, which is visited by millions of people a year.
War in Ukraine: More coverage