Cancer survivor objects to Spanish beach ad image
By Maria Zaccaro
BBC News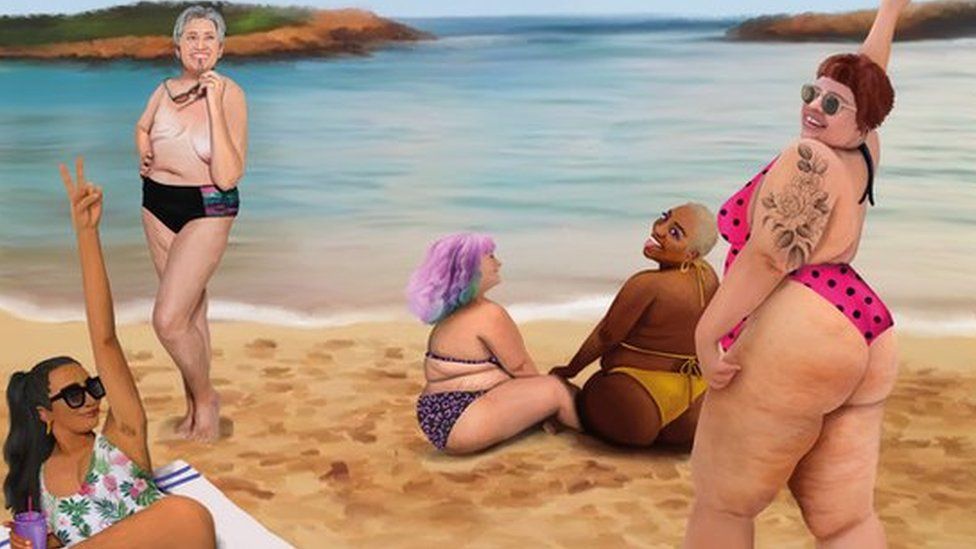 A third woman has said she thinks her picture may have been used for a Spanish "beach body" advertising campaign without her permission.
Cancer survivor Juliet FitzPatrick, who has had a mastectomy, thinks a woman in the advert may have been based on her.
But now three British women have come forward to say their pictures were used without permission.
One of the complaints came on Friday. On Saturday another woman featured on the poster said her prosthetic leg had been edited out.
The campaign's creator, Arte Mapache, apologised for using those images without consent.
Sixty-year-old Ms FitzPatrick, from southern England, said the face of the woman who had a mastectomy could be based on one of her pictures.
But she told the BBC on Sunday that the body in the poster was not hers as the woman had one breast while she had a double mastectomy - as the picture below shows.
What happened "seems to be totally against" the theme of the campaign, she added. "For me it is about how my body has been used and represented without my permission."
Ami Barwell, a British photographer who took the above photo, suspects the body in the poster was lifted from her picture of another woman.
"I think that the person who created the art has gone through my gallery and pieced them together," Barwell told the BBC.
"But without any clarification from the artist I can't say for absolutely certain," she added.
Both Ms FitzPatrick and Barwell only found out about the poster after they received messages on social media on Saturday.
Both of them have said they have contacted the artist Arte Mapache but are still waiting for a response.
Arte Mapache issued an apology.
"Given the - justified - controversy over the image rights in the illustration, I have decided that the best way to make amends for the damages that may have resulted from my actions is to share out the money I received for the work and give equal parts to the people in the poster," the artist said.
"I hope to be able to solve all this as soon as possible, I accept my mistakes and that is why I am now trying to repair the damage caused," she added.
The BBC has reached out to both Arte Mapache and the Spanish government for comment but has received no response so far.
In a statement earlier this week, Spain's Women's Institute said the campaign was a response to the "fatphobia, hatred and the questioning of non-normative bodies - particularly those of women, something that's most prevalent in the summertime."