Tom Hanks learned Saving Private Ryan lines from helmet on Irish beach
By Shane Harrison
BBC News Dublin Correspondent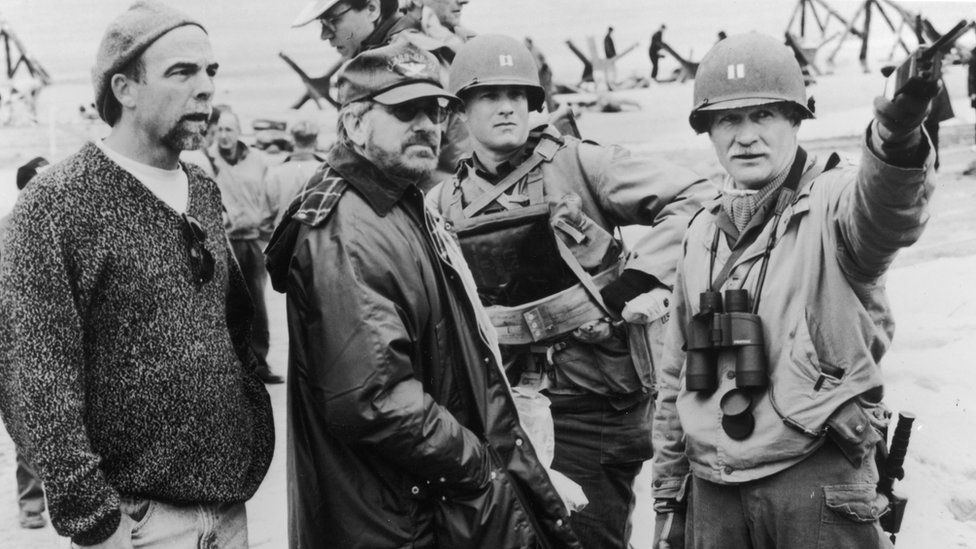 On a warm sunny day it is hard to believe that Ballinesker beach in the south-east of Ireland, about two-and-half hours' drive from Dublin, was to all intents and purposes a Hollywood movie set.
During the summer 25 years ago Hollywood stars including Tom Hanks and director Steven Spielberg set up camp on the County Wexford beach to film part of Saving Private Ryan.
Irish Army reservists - members of the Fórsa Cosanta Áitiúil (FCA) - were extras in the re-enactment of the D-Day landings during World War Two.
The movie by DreamWorks tells the story of the attempt to save the life of Private James Francis Ryan, whose three brothers had already died fighting in the war.
Those FCA extras who took part in the landing scenes wore wet suits under their uniforms to stay warm and as dry as possible.
A quarter of a century later, one of those extras - John Fowler - vividly remembers the many rehearsals before the final takes.
"They had pipes underneath the water and sand that had air blowing through simulating live fire," he says,
"And if you ran into them then you were dropped, gone and taken out of the film."
Graham Cadogan, another extra, is proud that he got to share screen time with the movie's main star Tom Hanks.
"I was fortunate enough to be in the right place at the right time to get picked by a talent scout," he says.
"It's the scene about 20 minutes in where Hanks is up at the command post looking for his interpreter."
Because of that scene, Graham's grandmother went to her one and only war film.
Tom Hanks, the regular guy who played baseball with the crew and extras on the beach, impressed many.
Paul Bolger remembers their time lying beside each other in the "warm tents" for drying out wet clothes.
He says that after a couple of minutes the movie star pulled up the helmet he had rested on "turned it upside down and started reading his lines from inside his helmet".
"Then he'd put it back under his head and he'd mumble away his lines for another while. He was just one of the lads."
Although Saving Private Ryan won five Oscars including best director for Steven Spielberg, it lost out in the best picture category to Shakespeare in Love.
Despite that, Donald Clarke, the Irish Times film correspondent says it is a very influential war film.
"We are dealing with a director who until that point, despite Schindler's List, was seen as a bit of a sentimentalist," he says,
"So, it was quite shocking that you had him depict the landing in the opening half hour of the film with such extreme violence."
Twenty five years later and back on the beach, there is little or no evidence that movie stars and film crews were once here.
But at least the extras from the Irish Army reserve still have their fond memories.