Ukraine: The teachers swapping classrooms for trenches
By Sophie Williams
BBC News, Kyiv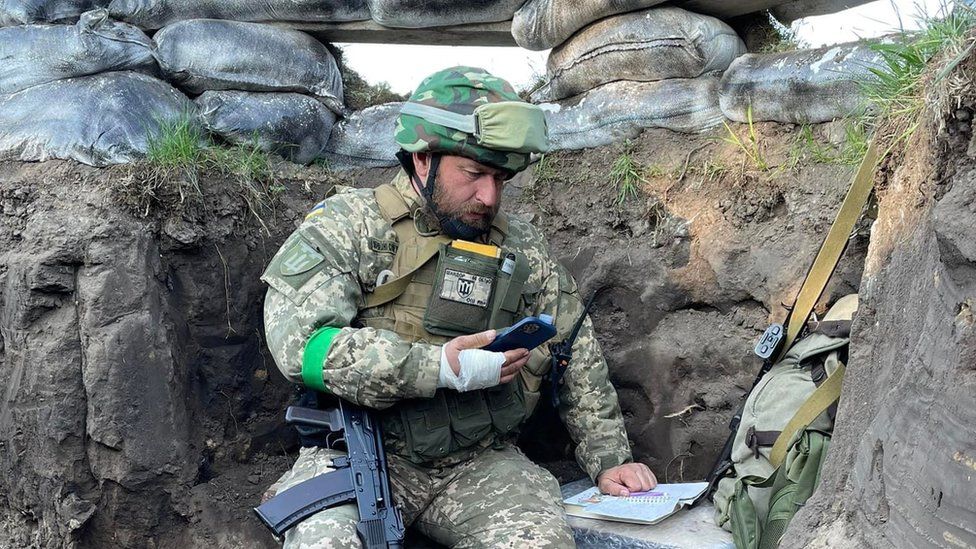 It's a regular Monday morning in Ukraine and Fedir Shandor is logging on to conduct his online classes.
The university professor has been teaching online since the pandemic but for the past few months, he has been educating his students from the frontline.
The 47-year-old signed up to the military after the Russian invasion but he was eager for his students to continue their education.
The result? He conducts twice-weekly classes on topics such as tourism and sociology from the trenches on his phone.
"I've been teaching for 27 years. I can't just abandon that. It's what I'm good at," he tells the BBC.
Mr Shandor has been teaching while serving in the military since Russia invaded in February. He signed up because he wanted to fight for his country and protect his wife and daughter.
"I should stop the Russians before they come to my house," he says.
Mr Shandor's dedication to his job has also helped keep participation numbers up.
"Even students who would skip classes before, turn up to every lecture," says one of his students, 20-year-old Iryna. "He has always told us that we have to be smart, that we are fighting for a smart nation."
But teaching in the trenches is not easy, and the students have had to get used to hearing shelling in the background..
"During one class, the sounds were very loud and so the students heard everything. Then I hid in the trenches and continued to teach," he says.
Through his surroundings, he's also been able to show his students shrapnel and teach them about different missiles.
Mr Shandor's lessons are also something of a novelty to his fellow soldiers, who often tune into his lectures and take pictures of him at work.
One of those pictures, showing him holding his phone in a trench, was posted online and went viral across Ukraine. A number of artists around the country have since made drawings and cartoons of the moment.
Mr Shandor isn't the only teacher currently fighting on the frontline. According to Ukraine's Education Minister, Serhiy Shkarlet, some 900 teachers have joined the armed forces so far.
"We ae proud of each and every one of them," he says. "We have people who have joined the armed forces of Ukraine in the Ministry of Education too."
Others, such as Anton Tselovalnyk, have joined the territorial defence.
His lessons were cancelled during the first two weeks of the war, but after time, schools that he had worked with in the past started messaging him, asking for help.
The 42-year-old instantly responded, opting to teach classes in the trenches or in the nearby housing for territorial defence personnel. Nothing can stop him from missing a class, not even the cold weather.
He says that at first it wasn't about teaching the kids, it was more about talking and supporting each other.
"You can imagine, the children used to go to school every day and then it suddenly stopped."
He has been teaching his students - who range from primary to high school - about architecture.
"The most important thing now is to keep the connection between your past and your future. Teaching now is like that for me too," he says.
One of his students, 17-year-old Veronika Volkova, says Mr Tselovalnyk's lectures are funny in order to keep the class in a good mood.
"It's the best distraction," she says, adding that her teacher will often show the class his surroundings, telling them about the trenches he has helped build and the places where he sits and looks at the stars.
"He's thoughtful and caring during lectures. Always asking for feedback, trying to keep the subject interesting for us," Ms Volkova adds.
Other teachers, such as Maksym Kozhemiaka, are using their medical skills to help the military.
The 41-year-old professor of trauma medicine at Zaporizhzhia State University realised he could be of use at the city's military hospital and volunteered to help.
But after a few days working there, he discovered a way of helping his students continue their studies too.
"We thought we could teach classes online," he says. "We already had experience in online teaching during Covid."
And so after a challenging first two weeks of the war, Mr Kozhemiaka resumed teaching by letting his students watch him conduct operations online.
They use a mixture of live classes and augmented reality to allow their students to participate and comment on operations even from their own homes.
"We've taught young doctors and students how to deal with combat wounds," he says.
Daryna Bavysta, has joined in Mr Kozhemiaka's classes and says she has learnt a lot since they restarted.
"Now I understand everything that is happening on the operating table," she says. "Maksym explains everything during his online live operations - what he is doing and how," she says.
But she is worried about her teacher: "It's not only psychologically difficult but physically - you want to give everything to the people you're treating. Our soldiers."
For Mr Kozhemiaka, abandoning his classes was not an option.
"Teaching is the work of my life," he says. "I couldn't abandon it. We were on the right track as a country before the war and we still are, so we need to fight together for our victory and stay united."
"It's important to continue working on what you did before. Why should a war stop us?"
Additional reporting by Svitlana Libet.