Britons captured in Ukraine must not face death penalty - European court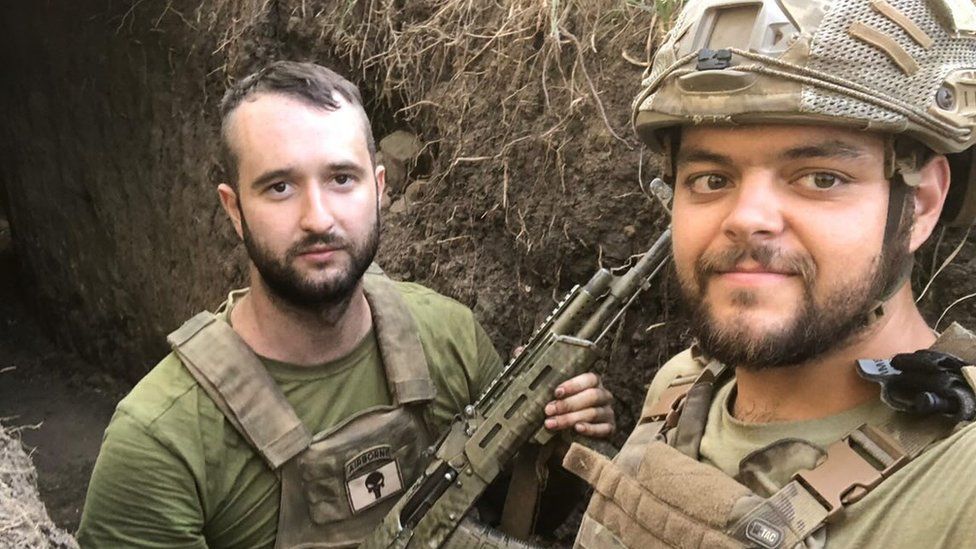 The European Court of Human Rights (ECHR) has told Russia to prevent the execution of two Britons who were captured while fighting for Ukraine.
Shaun Pinner and Aiden Aslin were sentenced by a Russian proxy court in eastern Ukraine earlier this month.
In an emergency ruling, the ECHR said Russia must ensure the death penalty is not carried out.
But Russia has dismissed the call for the men to be spared, saying it no longer implements ECHR decisions.
In his daily press briefing, Kremlin spokesman Dmitry Peskov said: "You know that Russia no longer complies with the requirements of the ECHR," in remarks quoted by the Interfax news agency.
He added that the fate of the men was a matter for the pro-Russian, breakaway Donetsk People's Republic.
The court in the so-called republic - neither of which are internationally recognised - accused the British pair, along with Moroccan national Brahim Saaudun, of being mercenaries.
But the Britons' families have insisted they are long-serving members of the Ukrainian military, and both have Ukrainian partners and have made the country their home.
They were captured after spending weeks defending the southern port city of Mariupol, which has since fallen to Russia.
The UK government has said they should be treated as prisoners of war under the laws laid out in the Geneva Conventions.
It has described the death sentences as a "sham judgement with absolutely no legitimacy" and says it is doing everything it can to support the men, adding that it is in close contact with their families.
In its ruling, following an application from the captured Britons' families, the ECHR said that Russia has an obligation over the men's situation because of the status of the region.
The court said that Russia must ensure "appropriate conditions" for the detained men and "provide them with any necessary medical assistance and medication".
The ECHR has insisted that it can still issue verdicts concerning Russia even though the Russian parliament has adopted legislation to end its jurisdiction in the country.
"There are no words, just no words, it's got to be everyone's worst nightmare to have a member of your family threatened in this way," Mr Aslin's grandmother Pamela Hall told the BBC.
War in Ukraine: More coverage