Ukraine round-up: Russia leaves Snake Island and Putin's topless G7 comments
By Tiffany Wertheimer
BBC News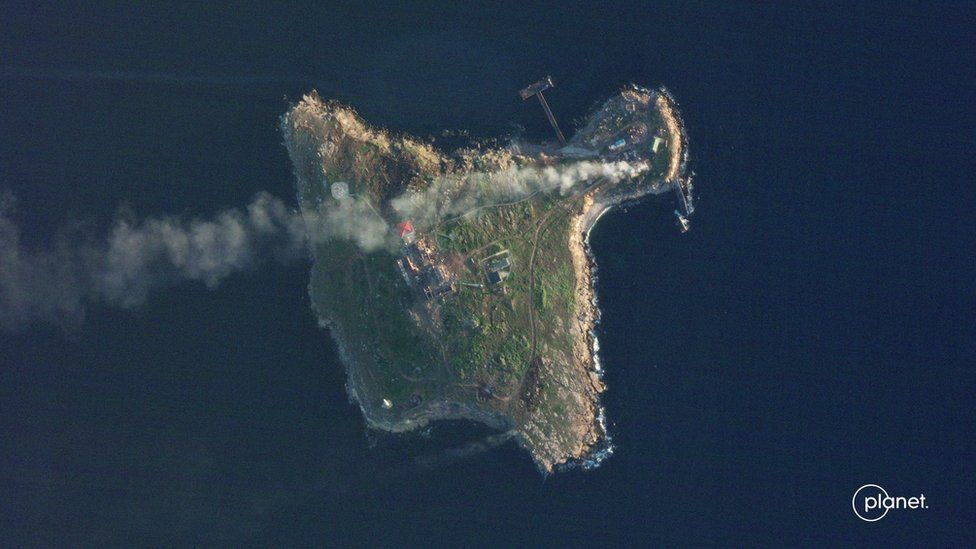 Ukraine is celebrating a significant victory after Russian troops withdrew from Snake Island, which they seized on the first day of the invasion.
It may be small, but the rocky outcrop has played a huge part in Russia's war in Ukraine - you may remember a story of Ukrainian soldiers on the island defiantly telling a Russian warship to "get lost" - although in far cruder language - when it demanded their surrender.
Now, after more than four months of repeated Ukrainian bombardment from the mainland, Russian forces have abandoned Snake Island, or Zmiinyi Island as it is known in Ukraine.
The outcrop is just 35km (22 miles) off Ukraine's coast - well within the range of missile, artillery and drone strikes from the shore. And Ukraine's armed forces have done exactly that, claiming a series of devastating attacks on the island and any Russian vessel going near it.
Різнорідні сили оборони продовжують операцію на Зміїному, наносять нові ураження противнику. https://youtu.be/QGssKbxgFRM Зафіксовано понад 10 влучань, одне з них по черговому зенітному гарматно-ракетному комплексу «Панцир-С1», решта результатів дорозвідується.

Posted by Оперативне командування "Південь"/Operational Command "South" on Monday, June 27, 2022
Russia says it has withdrawn its garrison as a "gesture of goodwill" to prove it was not obstructing grain exports, but Ukraine dismissed that claim, as Moscow continued to shell its grain stores.
Snake Island is in a strategically important location and there has been fighting over it for months. Couple that with the lack of goodwill gestures Russia has shown in Ukraine since the war began, it's more likely that Russia doesn't want to be seen to be retreating from the island, writes our BBC Russia editor, Steve Rosenberg.
Russia still aims to take all of Ukraine - US
Even though the territorial gains have come far slower than anticipated, Vladimir Putin still wants to capture most of Ukraine, US intelligence agencies believe.
Because Moscow's troops have been so weakened by combat, his goal won't happen any time soon, Director of National Intelligence Avril Haines says, meaning the war could last for a long time.
In March Moscow refocused its efforts on seizing Ukraine's Donbas area after failing to take Kyiv and other cities.
"We perceive a disconnect between Putin's near-term military objectives in this area and his military's capacity, a kind of mismatch between his ambitions and what the military is able to accomplish," she told a US Commerce Department conference.
'I'd take a bullet for Putin'
Ex-Formula One boss Bernie Ecclestone, 91, has described Russian President Vladimir Putin as a "first-class person" who is doing something he believes is right for Russia.
The two men have known each other for several years, and reportedly became friends after Russia was first given the opportunity to host an F1 Grand Prix in 2014.
Asked on ITV's Good Morning Britain if he still regards Putin as a friend, Ecclestone says: "I'd still take a bullet for him."
He also said that Ukrainian President Volodymyr Zelensky could have avoided the conflict if he had held talks with Mr Putin "who is a sensible person and would have listened to him".
A statement from F1 said: "The comments made by Bernie Ecclestone are his personal views and are in very stark contrast to the position of the modern values of our sport."
In other developments today:
Putin hits back at 'pecs' jokes
Vladimir Putin has hit back at Western leaders who mocked his macho image earlier this week.
While sitting down for talks at the G7 summit in Germany, leaders could be heard poking fun at how Mr Putin has posed shirtless several times in Russian state media, including while riding a horse, carrying a hunting rifle, and going fishing.
UK PM Boris Johnson joked that the leaders should take their clothes off to "show that we're tougher than Putin" and "show them our pecs", whilst Canada's Justin Trudeau suggested "bare-chested horseback riding."
On Thursday Mr Putin replied: "I don't know whether they wanted to strip down to the waist or below the waist, but I think that it would be a disgusting sight in any case."
Ukrainian soldiers being trained in England
The south-west English county of Wiltshire is known for being the home of Stonehenge - but it has also been home to hundreds of Ukrainian troops for the past few weeks.
They have been trained by British and New Zealand soldiers to use advanced long-range weapons systems that the UK is believed to be providing for Ukraine.
The BBC's defence correspondent Jonathan Beale went to the training grounds. Read his story here.
War in Ukraine: More coverage